On Saturday November 23 we celebrated our 8th Annual Festivus Party! Our entire Footprints Family was invited for a free pizza dinner with treats and lots of holiday cheer. From face painting, to balloon animals, to our Holiday Spirit Squad performance, there was something for everyone at Festivus 2019!
Festivus History
Our Festivus Holiday Party started as a way to give back to our Footprints Family. At the beginning of the studio we hosted our Festivus Party at the studio as a potluck supper. Our families contributed to a Secret Santa gift exchange and also received their Footprints ornament for the year. Santa always made an appearance too!
Now, eight years down the road, our Festivus 2019 Party has grown with us. This year we were excited to host our Festivus Party at the Oxford Auditorium to accommodate all of our families.
Rather than a potluck dinner (who wants to cook for 400+ people!?), we opted to have a free pizza dinner with treats for our Footprints Family! As some traditions changed, we were excited to continue to give out our special FDC ornaments still!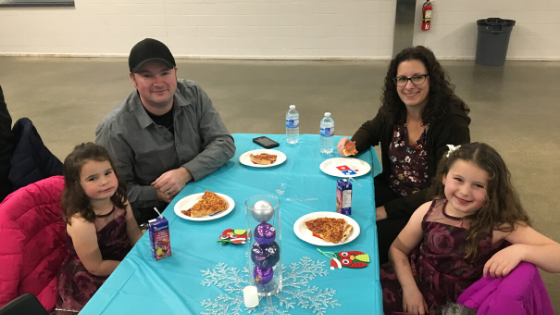 Activities
Last year, we brought on the fabulous Mrs Sarah's Face Painting and invited their team again to celebrate with us with face painting and balloon animals. We are so fortunate to have so many talented and helpful volunteers as well to run some fun booths for our students – the craft station to colouring – our volunteers were busy keeping all of our Footprints Family entertained!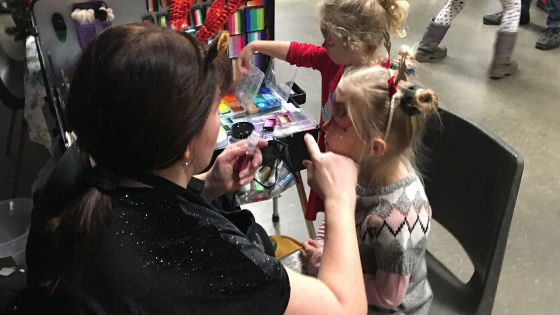 Our Holiday Spirit Squad also joined in on the fun! With a nice sized stage, we couldn't resist the opportunity for our Spirit Squad to perform. Each group did an amazing job presenting their fun holiday themed routines. Watch out as they begin to start performing throughout Oxford County this season. Check out their cute preview video on our YouTube Page!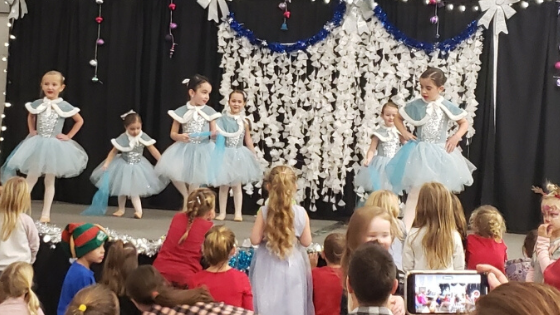 And no Festivus 2019 party would be complete without a visit from Santa! We are always so delighted by the expressions on our little dancers' faces when the jolly old man makes his appearance.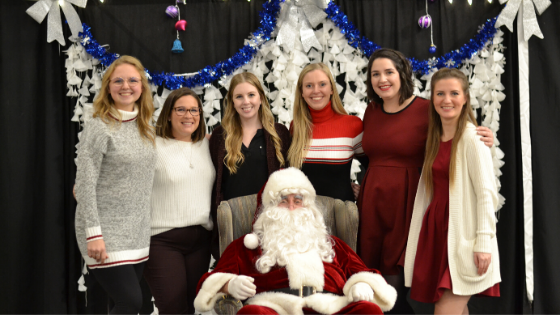 Thank You!
Thank you to all of the families who came out and partied the night away with us at Festivus 2019! We are so thankful and fortunate to have such an incredible Footprints Family!