Senior Recital Dancers (Ages 15-18)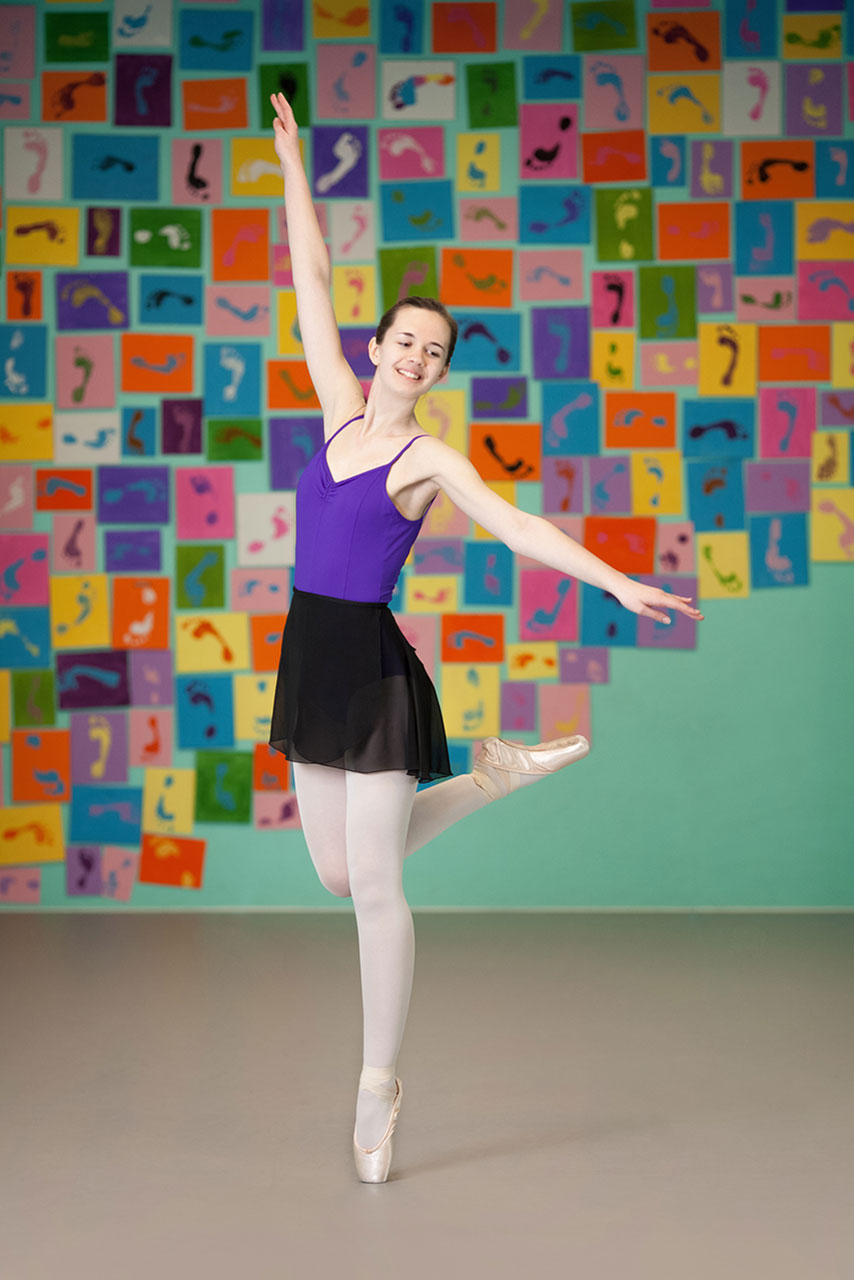 Our Senior Program is designed for dancers aged 15-18 looking to explore dance in a friendly and upbeat atmosphere. We create a welcoming environment for dancers of all levels of experience to experience dance and create long lasting friendships with their "footprints family." Senior dancers are often invited to partake in additional studio programs and experiences such as our assistant program and holiday decorating party!
2020/21 Schedule: Tuesday 8:45-9:30pm
The "trick"-y-est of all genres, acro combines aspects of acrobatics and dance. Coordination, strength, timing and flexibility are all key components of dance that are focused on in acro. Exploring both dance and acrobatic tricks keeps students engaged, excited and eager for every class.
2020/21 Schedule: Wednesday 8:45-9:45pm
Ballet is the basis and foundation of all dance forms. Building from the fundamental basics of ballet, dancers will learn proper placement of the arms, alignment of the body and terminology while cultivating control, strength and grace of movement.
Dancers at the senior level are welcome to explore our Ballet Exam Program.
2020/21 Schedule: Thursday 7:45-8:30pm
Tap has charmed the hearts of many over its long history. Through intricate foot movements, tappers create exciting, percussive rhythm patterns to engage the audience. Students will develop rhythm, musicality and coordination through intricate footwork and fast-paced choreography.
Students at the Senior Level are welcome to explore our Tap Exam Program.
2020/21 Schedule: Wednesday 4:30-5:15pm
Jazz is a dance form with limitless appeal due to its energy, variety and vitality. Fast and upbeat, this dance genre incorporates large jumps and turns to form an energetic style all its own.
Dancers at the Senior level are invited to explore our Jazz Exam Program. 
2020/21 Schedule: Thursday 8:30-9:15pm
This urban style combines both dance and music into a fast-paced and energetic class. Students will be encouraged to improve their physical fitness and improvisation skills while having fun and making new friends. Senior Hip-Hop incorporates a variety of Hip-Hop styles in order to further develop dancers' coordination, style and self-confidence.
2020/21 Schedule: Thursday 8:30-9:15pm
Lyrical and contemporary encourage students to put the emotions and story-telling abilities into movement. Incorporating elements of both jazz and ballet lyrical and contemporary challenges students technically to develop grace, strength, flexibility and coordination. Emotional commitment to the story portrayed through the movement is a must in contemporary dance.
2020/21 Schedule: Thursday 7:00-7:45pm
Students will learn about the history of the theatre through the kinesthetic experience of dance. Students will explore many styles of theatre dance through this versatile class and be introduced to acting techniques and improvisation.