Mindset. It's been a "buzz word" for quite some time now but dancers have always had the right idea when it comes to mindset. All kinds of people have bad days all the time. You slept through your alarm. You spill your coffee on your way to work. You can't seem to find the sunglasses that have been propped up on your head this whole time… These are obstacles we can over come. But when a dancer has a bad day it seems to go much further than that.
Dancers seem to spend an awful lot of time in front of a mirror – twisting, turning and kicking through space in so many ways. In this space we are hyper critical of our flaws in both our physical being and our emotional well being. We tear our technique apart and often don't like what we see in the mirror. As a dance teacher I have seen many mature students engage in negative self talk that doesn't do a thing to help them achieve what they want to do.
As the Artistic Director at the studio, I find myself asking these questions to my staff:
How do we as the teacher help and guide our students to have a more practical mindset when stepping into class?
When do we start teaching this to our students?
At Footprints Dance Centre we are so proud to be able to help our dancers through these bad moments starting right from day one. No matter if its one of our three year old Twirling Teacups or one of our mature Competitive Dancers our target on mindset remains the same.
1) Process over Product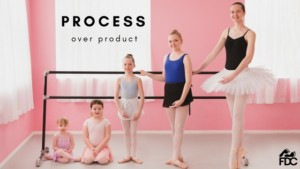 I cannot even begin to count the number of times my dance teachers said to me, "It's not about the gold medal at the end of the year, its about being better than the dancer you were yesterday." This is a lesson I have kept with me my entire life and continue to impart to my students. At FDC I love to hear our students start to say, "This is so easy." Because then I get to remind them of a month or two ago when they couldn't land their double pirouette and now they are working on quadruples!
2) Stop Comparing Yourself to Others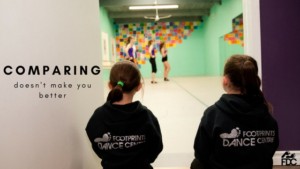 We see it all the time in class, the nervous beginner is looking into a senior dance class and the panic starts to set in. I can't do that. My leg can get up there. How am I going to do this?
Just stop right there.
Dance is a sport where the amount of time you put into it will directly reflect in your practice. If this is your first class then remind yourself of that! No one expects you to dance like the student who has been doing this for ten years. Not to mention that we also always see the strengths of others and tend to focus on our own weaknesses. Enjoy your time in the studio! And if you want to hit that special trick like the big kids be sure to put the right work in first!
3) Be Patient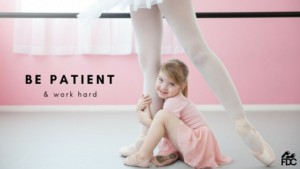 Rome wasn't built in a day and neither was Swan Lake. Dance training takes many, many years of practice and discipline. Take your time. Listen to your corrections and practice mindfully. This will get you where you want to go!
4) Make Small Goals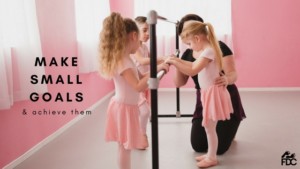 One of the best things about our staff at FDC is that we are all certified and trained professional dance teachers. We know what baby steps work up to those big showstopping steps. If you have a big goal in mind talk with your teacher and see what mini steps we can set up to foster you in achieving that goal. All of those small wins will ultimately result in your big win – and it feels a whole lot better getting there! Each small win is like a little treat for your mindset.
5) Laugh at Yourself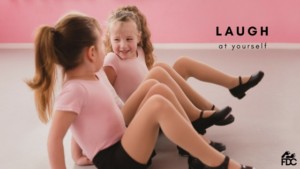 There's no point in letting your inner Nicky-Nit-Picker win. When you mess up, when you fall down, when you accidently kick your friend in class – just laugh it off. When you start to get frustrated in class just make a silly face in the mirror and move on. Dance is supposed to be fun you know! It's all in your mindset.
At Footprints Dance Centre we don't just teach your child how to dance, we want them to experience dance in a way that helps them become successful citizens of the world. Addressing mindset in class is just one of the many ways we do this for our dancers. For more information about our recital programs, competitive programs or performance teams please just contact us!