On Saturday June 15 we celebrated our second set of ballet exams! Our dancers worked hard all year to pursue this amazing opportunity right here in our Woodstock dance studio. At Footprints we are proud to offer our ballet students examinations through the International Dance Acclaim syllabus.
What is International Dance Acclaim?
International Dance Acclaim (IDA) was created by three thought leaders in the ballet industry. The goal of IDA was to set a standard in ballet education that was suitable for both pre-professional and recreational dancers through challenging but attainable and inspiring choreography in the set syllabi. The program was designed to have clear, attainable goals for the dancers while encouraging strong technique, artistry and musicality.
Who is the ballet examiner?
Our little Woodstock dance studio played host to Rebecca Tsivkin, our examiner for the examinations as well as one of the original creators of the International Dance Acclaim syllabus. Miss Rebecca is a graduate and licentiate of the Royal Academy of Dance in London, and is an Associate of the Imperial Society of Teachers of Dancing (ISTD).Rebecca was on the teaching faculty at American Academy of Ballet, where she was also the executive coordinator and international judge for the Performance Awards program under the direction of Mignon Furman. In addition, Rebecca was the Head Children's Instructor at the Gelsey Kirkland Academy, and has guest-taught across the United States and internationally. Miss Rebecca is also co-creator of Ballet Extensions NYC, and is currently on the teaching faculty and is the Early Childhood Programs Associate at Ballet Hispanico NYC.
The Day of Ballet Exams
With Miss Rebecca flying all the way in from New York City our dancers were a little nervous and intimated for this special event. Nevertheless, they performed with all of the grace and charm that makes them such excellent ballerinas. Our students were examined in various levels according to their abilities. Dancers performed their set syllabi as a group, in duets and individually throughout their exam.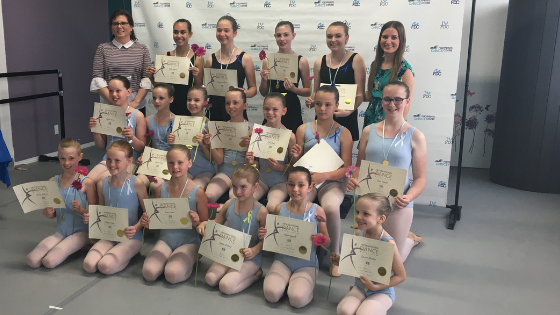 After the formal examinations were complete it was time for the results!
The awards ceremony was open to family and friends to watch their dancers' achievements. Each dancer received a medal of participation and a certificate with their level of accomplishment indicated on it. Dancers could receive marks ranging from fail, pass, merit, highly commended, honours and elite honours. We are pleased to say that all of our dancers were more than successful in their examinations!
After the stress of examinations were over our students and families were treated to a pasta and salad lunch before their masterclasses with Miss Rebecca.
Why include a Ballet Masterclass?
Giving our students an opportunity to learn from their examiners is so incredibly important to us at Footprints Dance Centre. During masterclasses students take a regular class from their examiner. This gives the dancers an opportunity to not just be judged by their examiner but to learn and be inspired from them. Our dancers took class from Miss Rebecca and left their classes with a greater appreciation and understanding of their ballet training and of the greater ballet world.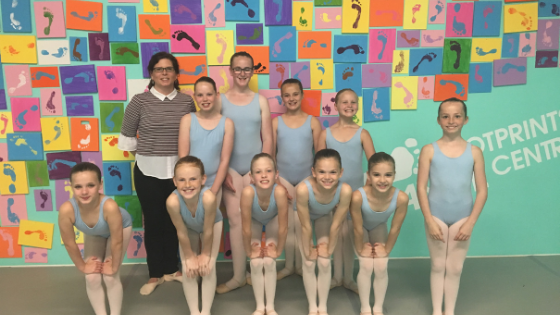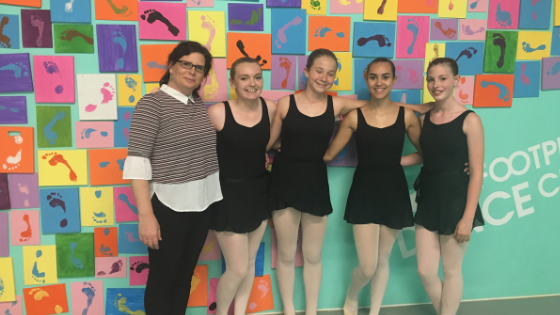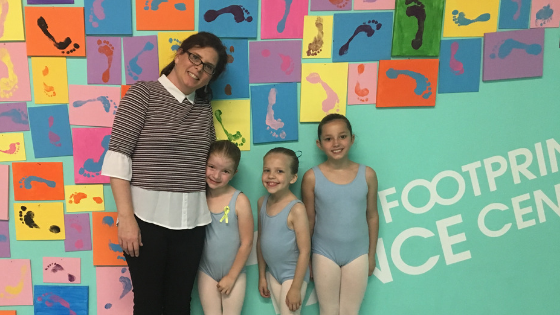 At Footprints we believe that it is so incredibly important to give our students opportunities to learn about the greater world of dance and to connect their experience in dance to their futures. Dance exams are an excellent way for students to not just gain greater technical training but to also give them skills to handle high pressure environments like job interviews and performance evaluations. For more information about our dance exam programs please visit our Exam Page or Contact Us.